THE WEAVING OF DHARMA: HOW INTERCONNECTEDNESS OF ALL LIFE SHAPES US

Teachings and Meditations on Interdependence with Lama Mark Webber
Bella Rakha Retreat Centre, Oratia, West Auckland, New Zealand
Easter 2017: April 13 to 18th
An opportunity to take time out for a short retreat over the Easter break at the peaceful Bella Rakha retreat centre. Teachings on interconnectedness are not only very relevant in modern life but the understanding of its subtleties is essential to any meditative practice. This topic is rarely taught in a standalone retreat setting.
The interdependence of all events, beings, nature and things, inside and outside of us, is at the heart of Buddhist meditation and teachings of Liberation. Every facet and moment of our lives are shaped and molded by the causes and effect of the interconnectedness of all life. Many of the highest Buddhist teachings on Emptiness, in all traditions, are about this topic. In this five day retreat, Lama Mark will explain classic Buddhist teachings of interdependence with a scientific and artistic approach. And through a series of somatic-energy-awareness meditations called the "Inbar series", Lama Mark will introduce us to profound meditations and contemplations. A decade ago, Lama Mark developed and taught a series of awareness meditations that combine subtle awareness of breath-sensation to lay a strong foundation of attentiveness, equanimity and loving-kindness as a preparation for Tantric meditations, especially the inner yogas. These processes greatly enhance meditative results at all levels of ability and are particularly invaluable techniques for those planning to enter longer more rigorous retreats.
Early morning Yoga or Chi Gung sessions will lead by our instructors. This retreat is suitable for beginners, advanced practitioners and urban yogis, guidance and support will be given accordingly to each individual.
To register your interest and for more information please contact Janiah:
Janiah Melsom – janiah33@gmail.com – 027 5833606
Note: Cost to be announced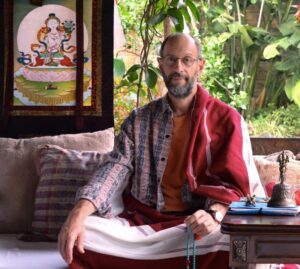 Lama Mark (LamaYongdu) has been studying and teaching Buddha-dharma for forty years. For thirty years his main root teacher was the great Ven. Dorje Namgyal Rinpoche who taught
all three cycles of the Buddha's teachings, including Abhidhamma,Vipassana in the lineage of Mahāsi Sayādaw, generation and completion stage practices of the Tantrayana and Mahamudra/Dzogchen of many lineages, especially of the Karma Kagyu. More recently at the request of the Ven. Drikung Lho Ontul Rinpoche, a gifted teacher and accomplished yogi, Lama Mark has been practicing and teaching the richness of the Drikung Mahamudra and Drikung Yangzab Dzogchen traditions.
Lama Mark has a deep and long term interest and collaboration in a number of scientific fields and the arts which he integrates with the teaching of Buddhism.
His compassionate activities demonstrate a profound commitment to freeing beings from innumerable suffering states. Lama Mark's emphasis with practitioners and students is on uncovering pure Dharma to reveal its extraordinary benefits and share the great joy of its deep study, meditative practices and integration into all aspects of our lives.

For more information about Lama Mark, see:
www.markwebber.org
www.facebook.com/lamamarkwebber
crystalmountain.org