24-Mar to 23-Apr, 2023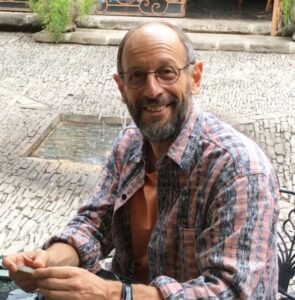 NOTE: The "Shower of Blessings" transmission and practice sessions have been pushed back by a day compared to the original programme. These now take place on the evenings of Wed, 19th and Thu, 20th April.
Lama Mark (Lama Yongdu Chokyi Gyaltsen) is our Spiritual Adviser and one of our Principal Teachers. He is returning to Queenstown this year (following a COVID-enforced absence) and has very kindly offered a comprehensive month of public teachings, as described in the table below.
The registration fee is $10 per class, with the exception of the first class and any empowerments (which are free) and the Easter Retreat, which costs $80 for all 12 classes. Registration is not necessary except for the retreat. To register for this, please email programme@dharmacentre.org.nz. Payments may be made in cash (only) at the centre, or by bank transfer to 38-9006-0765486-09 (Lake Street Trust). Dana (donations) for the teacher will also be gratefully accepted. For more details, please read our page on Dana and Fees.
Morning (am), afternoon (pm) and evening (eve) classes start at 9:30 am, 2 pm and 7 pm, respectively, and run for approximately two hours unless stated otherwise. Out of respect for the teacher, please arrive in time to be seated and settled well before the start of the class.
Personal interviews and checkups with Lama Mark Webber are available upon request from March 27 to April 20.
Date
Topic
Details
March
Fri, 24 (eve)
Why Meditate? A brief tour of the Essence
Presenting the view, meditation and action of Great Completion (Dzogchen).
Sat, 25 (am,pm)
Sun, 26 (am)
Magnifying Compassion and Wisdom: the meditations of Four Noble Truths through the Three Cycles of Buddhist Teachings
Readings, commentary and instruction from classic texts, with support from Lama Mark Webber's study guide.
Tue, 28 (am,eve)
Wed, 29 (am,eve)
The Bodhicitta (Mind of Awakening)
Commentary on the Bodhicitta chapters (9 & 10) of Je Gampopa's classic text, The Jewel Ornament of Liberation.
Fri, 31 (eve)
April
Sat, 1 (am,pm)
The Purification method of Vajrasattva transmission: a practice of the Yangzab Dzogchen Lineage
Refuge, bodhicitta, ethics, samaya vows, The Four Powers of Parting. Introduction to generation and completion stages of Buddhist tantric practice.
Fri, 7 (eve)
Sat-Thu, 8-13 (am,pm)
Easter Retreat: Infinite Compassion: Outer, inner and secret Chenresig meditations
Empowerment (Fri), history & instructions (Sat-Sun) and practice (Mon-Thu) sessions. Goal is to accumulate a minimum of 100,000 recitations each. A transmission of Guru Padmasambhava, revealed by Chogyal Rinchen Puntsog (1547-1602).
Sat-Sun, 15-16 (am,pm)
Introduction to the Abhidharma: a workshop of study and meditation
The lucid categorizations and organization of the path of liberation. Ancient and modern scientific perspectives.
Wed-Thu, 19-20 (eve)
A Shower of Blessings: a meditation practice by Ju Mipham Rinpoche (1846-1912)
Reading transmission and practice session. Opportunity to ask questions about generation and completion stages of Buddhist tantric practice.
Fri, 21 (eve)
Sat, 22 (am,pm)
Sun, 23 (am)
An instruction on the view of Mahayana: clarifying the two truths.
Transmission and commentary. A text by the great Patrul Orgyen Rinpoche (1808-1887).
Sun, 23 (eve)
The Buddha's Mangala (Blessings) Sutta. Potluck supper with the Lama.
Reading and explanations of the sutta. Potluck supper, community gathering and farewell.
Lama Mark Webber (Lama Yongdu) has been studying and teaching Buddha Dharma through the traditions of Buddhism for almost fifty years. His universalist approach is classically founded in Buddhism and a number of meditative traditions while integrating with contemporary life, science and the richness of modern Western culture. Lama Mark studied and practiced Abhidhamma and the Vipassana method of Mahasi Sayadaw U Sobhana under the guidance of the Insight master Ven. Namgyal Rinpoche and his first teacher Ven. Chorpel Dolma (Mrs. Raff). In 1976, while in a three month Abhidhamma/Insight retreat, Namgyal Rinpoche directed Lama Mark to begin teaching this profound tradition to Rinpoche's students. Soon after he was directed to give guidance on Vajrayana meditations. From the Ven. Namgyal Rinpoche and other masters such as the late Drikung Lho Ontul Rinpoche, Lama Mark has studied, received, practiced and continues to teach Vajrayana transmissions of the Mahamudra and Dzogchen.
Through clarity, joy and humour Lama Mark's emphasis with practitioners and students is on uncovering pure Dharma to reveal its extraordinary benefits and share the great joy of its deep study, meditative practices and integration into all aspects of our lives.
Lama Mark resides on Galiano Island, near Vancouver, BC, Canada but teaches around the world for much of the year. For more information please see:
For more information on Lama Mark please see:
https://www.markwebber.org
http://www.crystalmountain.org
https://dharmacentre.org.nz/
https://nybcc.org/
https://www.facebook.com/lamamarkwebber/