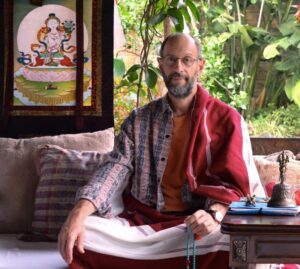 2017 Teachings in Queenstown, New Zealand
By Lama Mark Webber
January 21 to February 19, 2017 (1 month)
The modern Vipassana method and Abhidhamma. Lama Mark will teach 5 classes on an introduction to the Abhidhamma with an emphasis on understanding and being able to practice the methods used in modern Vipassana and the Buddha's classic teachings of the Four Foundations of Mindfulness & Anapanasati. The teachings will be followed by a nine-day meditation retreat (4 to 12 Feb), including meditation interviews with Lama Mark. Main topics include learning to distinguish concepts and appearances, cause and effect, mental states and feelings, six senses, consciousness, the five aggregates, anicca dukkha and anatta, nibbana and lokuttara, awareness, mind and wisdom mind. (5 public classes, 9-day retreat)
The Inbar guided meditation series. A decade ago, Lama Mark developed and taught a series of awareness meditations that combine subtle awareness of breath-sensation to lay a strong foundation of attentiveness, loving-kindness and as a preparation for Tantric meditations, especially the inner yogas. These practices will be taught via guided meditation sessions. (5 classes)
Commentary on Gampopa's Jewel Ornament of Liberation. From Buddha-nature, bodhicitta, Loving-kindness & compassion to tonglen Meditation. Chapters 1 to 7. Includes meditations and mind training: from Loving-kindness to Tonglen (giving and receiving of compassion). A combination of teachings and group meditation sessions. (7 classes)
Teachings from the Drikung Yangzab Dzogchen Lineage.
a) Amitāyus – Padmasambhava Longevity and deathlessness (Subduing the Lord of death through Splendour) (1 class)
b) Reading transmission and Guidance on the Drikung Yangzab Preliminary Liberating Instructions (2 classes)
c) Longevity and deathlessness Practice of the Sun & Moon Amulet reading transmission & instructions (1 class, 3 group practice sessions)
Dzogchen Instructions on View, Meditation and Conduct from the Three Statements of Garab Dorje. Reading transmission, Patrul Rinpoche's auto commentary and guidance from Drikung Lho Ontul Rinpoche's recent teachings on this text.
Empowerment & Tsok. To be announced.
Detailed dates & times for classes are in the calendar and there's also a printable pdf timetable, A4 poster & A3 poster.
Details of registration requirements & fees are on the registration page. We also have information on accommodation for those from out of town.
Queenstown Dharma Centre cannot host teachers of Lama Mark's calibre without support from the community. Please take a moment to read about how you can help support his visit, especially if you are interested in tax-efficient donations.
Lama Mark Webber (Lama Yongdu) has been studying and teaching Buddha Dharma through the traditions of Buddhism for forty years. His universalist approach is classically founded in Buddhism and a number of meditative traditions while integrating with contemporary life and the richness of modern Western culture. Through many vehicles—including Buddha Dharma and meditation, art and craft work, science and natural history, plus world travel—Lama Mark displays the wondrous unity, uniqueness and intrinsic freedom of our mind and all life.
Lama Mark studied and practiced the Abhidhamma and the Vipassana method of Mahasi Sayadaw U Sobhana under the guidance of the Insight master Ven. Namgyal Rinpoche and his first teacher Ven. Chorpel Dolma (Mrs. Raff). In 1976, while in a three month Abhidhamma/Insight retreat, Rinpoche directed Lama Mark to begin teaching this profound tradition to Rinpoche's students.
Through clarity, joy and humour Lama Mark's emphasis with practitioners and students is on uncovering pure Dharma to reveal its extraordinary benefits and share the great joy of its deep study, meditative practices and integration into all aspects of our lives.
Lama Mark resides on Galliano Island, near Vancouver, BC, Canada but teaches around the world for much of the year.  For more information please see:
www.markwebber.org
www.facebook.com/lamamarkwebber
crystalmountain.org